亚通杯( Axiata cup) 要来咯~~
现在有一个让你们赢取去观赛的机会
那就是把你们的创意和skills拍成video upload 去www.AxiataCup.tv就可以了
得到最多vote的参赛者将有机会以VIP的身份到KL观赏半决赛和决赛!(13-14 April)
得奖者名单将在 4月9日 公布
我相信羽球迷应该不想错过吧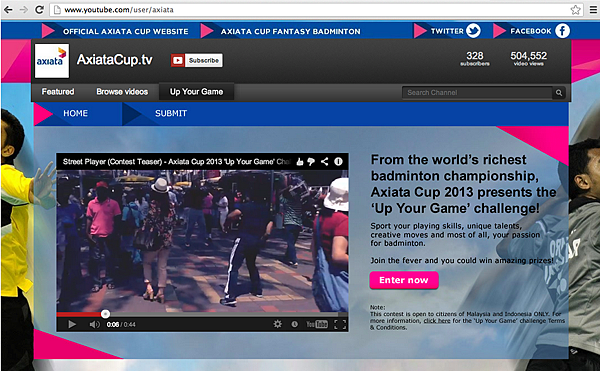 step1 : 登入www.axiatacup.tv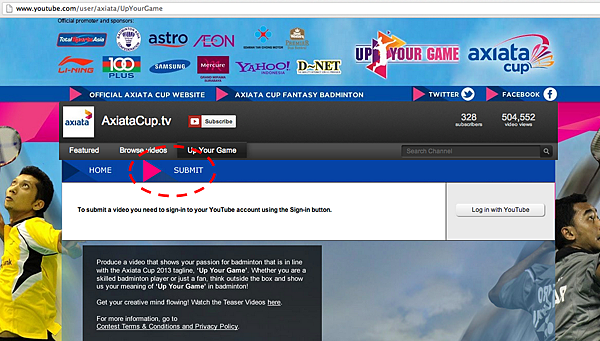 step2: 按up your game 然后submit 你的video
说真的羽球对我这个运动白痴来说是唯一会玩的球类

而且还是很烂的那一种
我相信你们可以做到比我更好的!
想要赢取丰富的奖品奖金就赶快参加咯

Axiata cup is coming soon!
Here's a chance to let you win a an exclusive 'VIP experience' to attend the Semi Finals and Finals of the Event which will be
held in Kuala Lumpur, Malaysia on the 13th and 14th of April 2013.
Its very easy~
Join 'Up Your Game' challenge by uploading a video about your playing skills or unique talent at www.AxiataCup.tv
I think badmontion game lover wont want to missed it right? =D
As im very noob in sports, badminton is the only ball that i know how to play =.=
Im sure that you can do better than me !
Join the fever now and stand a chance to win amazing prize!


GOLD: Cash Prize Winning of MYR 5,000
SILVER: Cash Prize Winning of MYR3,000
BRONZE: Cash Prize Winning of MYR 1,500
All winners also get:



(Good news for Indonesian readers: this Prize includes return flights from Jakarta, Indonesia to Kuala Lumpur for two (2) people for Indonesian winner!)
and gifts from Axiata and sponsors of Axiata Cup 2013!

All submissions will be shortlisted and fans will get to vote for their favorite videos. And the video with highest voting points will be declared as the winner on the 9th of April 2013. This contest opens from 15 February 18 February with submission closing by the 25th of March 2013. Upload your video at www.AxiataCup.tv!z